Lucian Wikians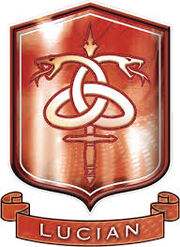 Kon'nichiwa, kurutta hitobito!

If you're looking for the history of the Lucian Council, any of them, this is not the place to find it. This is the place to find your branch on the Janus, Lucian, Tomas, Madrigal, or Ekaterina Wikians pages, and see who's here from the MB in the dangerous Lucian branch.
As for the history of the actual Lucians in the book, well my young yūjin, the Lucians are a ruthless, cold branch. They are the presidents, kings, dictators, secret agents, and more in the history of the world. You might be surprised on who famous people in history were. Some knew they were Cahill, some oblivious to the fact their entire lives. Currently, the leader of the Lucians in the books would be Ian C. Kabra, who works for the Madrigals.

Sayōnara!
~Mistress Michaelis~

Pages in category "Lucian Wikian"
Ad blocker interference detected!
Wikia is a free-to-use site that makes money from advertising. We have a modified experience for viewers using ad blockers

Wikia is not accessible if you've made further modifications. Remove the custom ad blocker rule(s) and the page will load as expected.