Ekaterina Wikians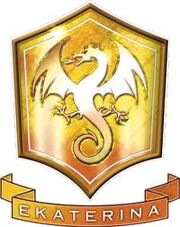 Kon'nichiwa, kurutta hitobito!
If you're looking for the history of the Ekaterina Council, any of them, this is not the place to find it. This is the place to find your branch on the Janus, Lucian, Tomas, Madrigal, or Ekaterina Wikians pages, and see who's here from the MB in the genius Ekaterina branch.
The Ekaterina, in my opinion, my yūjin,have a very interesting history. They are the great inventors of the world, such as Steve Jobs. The Apple Company? Full of Ekats. Military knowledge? Go ask an Ekat. Behind every piece and sort of technology stands an Ekat. They are a very dangerous enemy to have, and currently, the three Starling leaders - Sinead, Ned, and Ted - are teamed with with the other book branch leaders to stop Pierce from taking over the world.

Sayōnara!
~Mistress Michaelis~
Ad blocker interference detected!
Wikia is a free-to-use site that makes money from advertising. We have a modified experience for viewers using ad blockers

Wikia is not accessible if you've made further modifications. Remove the custom ad blocker rule(s) and the page will load as expected.